Smart Strategies.
Tireless Execution.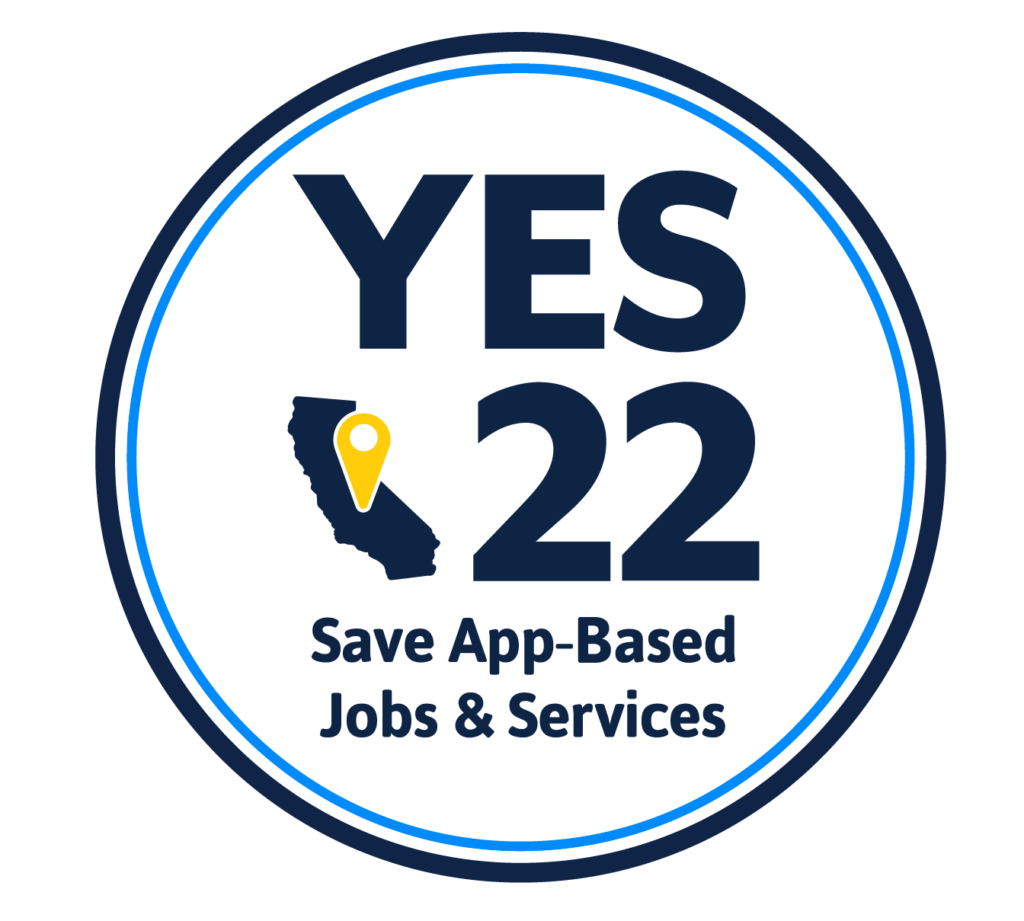 SUMMARY
In 2019, the California Legislature passed Assembly Bill 5, a statewide law intended to eliminate the ability of millions of Californians to work as independent contractors. This politically-motivated law was primarily targeted toward app-based food/grocery delivery and rideshare companies to force them to reclassify independent contractor drivers as employees – even though independent studies showed, by a 4-to-1 margin, drivers preferred to work as independent contractors.
Facing an existential threat to their industry, BCFS was hired by app-based rideshare and delivery companies in 2019 to analyze the feasibility of a statewide ballot measure, help with the design of a measure, and develop and oversee a winning campaign strategy to ensure app-based drivers could continue to be classified as independent contractors.
In partnership with Winner & Mandabach Campaigns, BCFS acted as co-campaign manager, developing strategy, research and paid media. BCFS also directed all earned media, coalition building, grassroots and field organizing, as well as social media and digital.
After a grueling, high-stakes campaign, 58.6% of voters passed Prop 22 by a 17-point margin in November of 2020.
developing a winning strategy
In early 2019, BCFS and Winner & Mandabach Campaigns worked with the app-based companies to oversee extensive opinion and legal research to determine the feasibility of a statewide measure and construct a well-designed initiative that protected app-based drivers and services. After months of extensive research and planning, in October 2019 the coalition filed a ballot measure that would protect the right of on-demand rideshare and delivery drivers to choose flexible work as independent contractors. Prop 22 was also written to improve the quality of on-demand work by establishing historic new earnings and benefit guarantees and contained strong new consumer and public safety protections.
COALITION DEVELOPMENT
BCFS built a coalition of 140 organizations representing on-demand drivers and platforms, small businesses, public safety and community organizations, including Mothers Against Drunk Driving, California Small Business Association and the CA NAACP. Additionally, we formed relationships with unique interest groups such as 'Clergy for 22' to target key voter constituencies. We activated the coalition by holding message and social media trainings, encouraged them to educate their members via newsletters and social media, pushing GOTV and by attending rallies/press conferences. We also included coalition members in paid communications including TV, mail, digital and radio in multiple languages.
digital and social media
BCFS teamed with BASK Digital Media to develop campaign websites tailored specifically for app-based drivers and voters. The driver website had unique resources for drivers allowing them to share their personal stories, email friends and family, easy-to-share social media graphics and various ways to help get out the vote. Overall, 8,400 drivers shared personal stories that were featured prominently on the website, earned media, social media and paid advertising, highlighting why flexible work is important to them and why they support Prop 22.
Additionally, the team worked with TQK Media to develop a strong social media presence and build an army of driver advocates who were engaged with the campaign and could share information on how Prop 22 would impact them. Drivers shared directly among their personal channels and groups they participated in. Overall, we had 19 million social media engagements across Facebook, Twitter and Instagram and over 100 social media advocates help educate voters.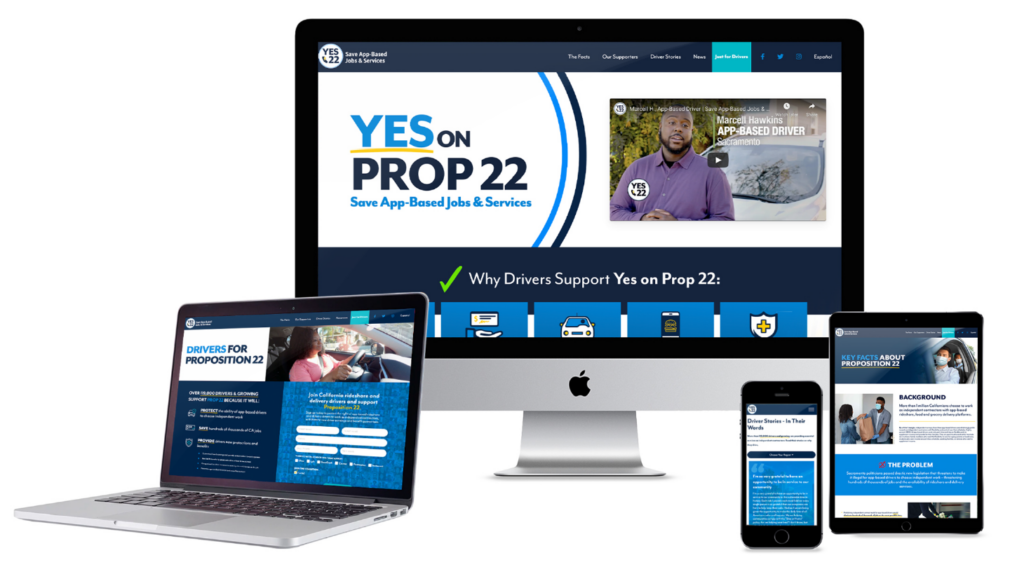 field mobilization
Educating and activating app-based drivers was a key strategy from the very beginning. BCFS worked with Rodriguez Strategies who developed an extensive driver field plan aimed at building relationships with drivers and giving them tools to engage in the campaign. Ultimately, the campaign created the largest driver-led coalition in the country with nearly 120,000 drivers signing up to support Yes on 22. The field team completed over 100,000 calls to drivers over the course of the campaign. The team also activated a volunteer texting program to train and activate the campaign's 120k drivers to text voters directly to support Prop 22.
PRESS AND EARNED MEDIA
BCFS managed all the earned media for Prop 22. Since the measure impacted primarily app-based drivers, their voices were critical to demonstrate the positive impacts Prop 22 would have on their livelihoods. Overall, the campaign held over 70 media trainings, training more than 200 drivers in key media markets across the state. The earned media team prepped drivers and coalition members to meet with editorial boards, fulfill interview requests from reporters, participate in press conferences and debates, and identified authors for op-eds. Prop 22 was the highest-profile measure on the ballot, garnering state, national and even international requests for media interviews. In total the campaign and its spokespeople conducted hundreds of media interviews and debates. In addition, BCFS worked with the earned media team to meet with editorial boards across the state. In all, twenty-five newspaper editorial boards endorsed Yes on 22.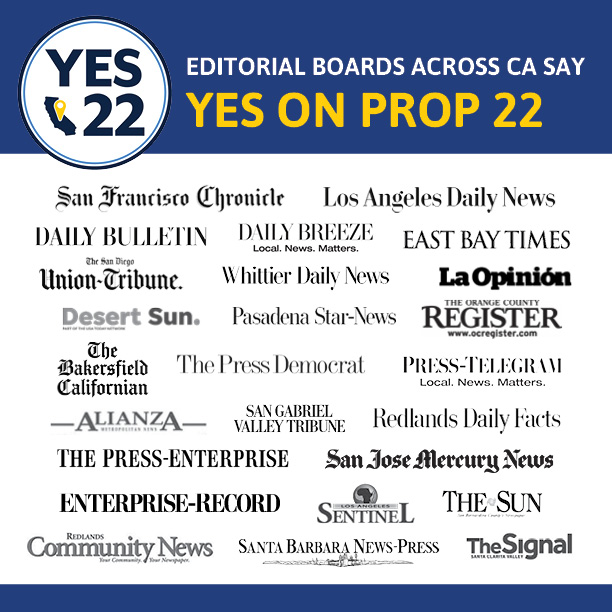 conclusion
Prop 22 was approved by 58.6% of California voters.