Smart Strategies.
Tireless Execution.
Summary
In 2017, BCFS helped pass Senate Bill 1 – a historic transportation funding package which authorized new gas taxes and vehicle fees dedicated exclusively to transportation infrastructure improvements. Proposition 6 qualified for the November 2018 ballot with the goal of repealing these taxes and fees and requiring voter approval on all future transportation taxes. Prop 6 would have eliminated more than $5 billion annually dedicated solely to California's aging transportation infrastructure. BCFS served as the campaign manager and lead strategist to defeat Proposition 6.
Developing a Winning Strategy
BCFS oversaw extensive research including focus groups in every major media market, ongoing polling, modeling, microtargeting and analytics to help develop the winning strategy and campaign plan. While voters were skeptical of increased taxes, they were strongly supportive of the need for transportation repairs in their local communities with an emphasis on the need for safety improvements.
This data-driven analysis resulted in a winning campaign plan focused on:
A strong "NO" campaign, convincing voters there were significant and personal negative consequences to repealing $5 billion annually in transportation funds
Emphasis on public safety and the threat to bridge and road safety should Prop 6 pass
Highly localized campaigns including localized advertising, mail, earned media and digital campaigns highlighting the thousands of local projects in every community at risk
Strong credibility from spokespersons including firefighters, engineers, highway patrol officers, local governments and others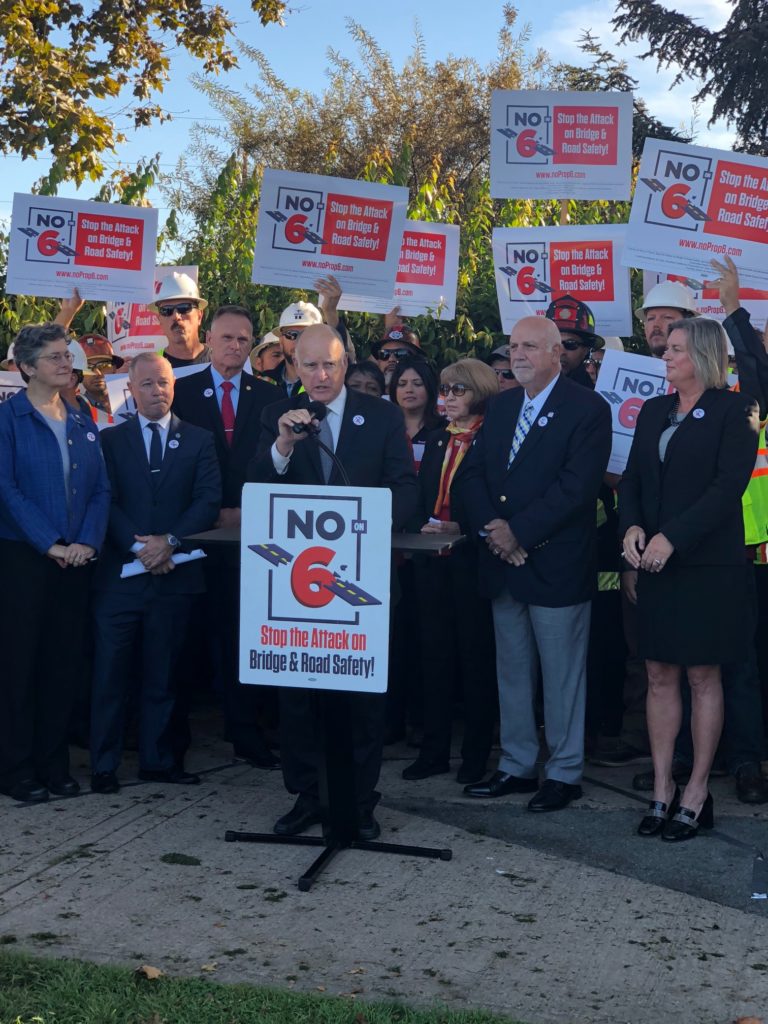 Coalition Development
BCFS built a coalition of nearly 700 organizations representing public safety leaders, engineers, local transportation agencies/advocates, cities, counties, environmental groups, business, labor, minority advocates and community groups. We activated the coalition by holding message and media trainings, encouraging them to educate their members via newsletters, social media, speakers bureau presentations, pushing GOTV and by attending rallies/press conferences. We also included the coalition in paid communications including TV, mail, digital and radio in multiple languages.
Campaign Advertising
BCFS worked with SCN Strategies (now SCRB Strategies) and oversaw development of the media buy and scripting, casting and production of television ads. Television ads featured civil engineers, firefighters California Highway Patrol officers, mothers and Governor Jerry Brown. Per the campaign strategy, campaign advertising was regionalized to deliver messaging specific to voters in the Bay Area, Central Valley, Inland Empire, Los Angeles, Sacramento, San Diego and California at-large – localized ads demonstrating the local negative impacts of Prop 6 passage.
Mail
BCFS worked with JPM&M campaign strategies to develop a comprehensive mail program. Together we created four separate mail pieces (including bilingual mail), using microtargeting data to ensure we were hitting base and persuadable voters. The team created 22 different regional versions of the mail to allow for localization of messaging and local projects impacts. In all, the mail reached 8.2 million targeted voters throughout the state.
Digital
BCFS teamed up with BASK Digital to develop a campaign website and digital plan to reach lean and swing voters via video on Facebook and YouTube, search engine optimization and programmatic and display advertising. Ultimately, digital advertising resulted in nearly 80 million impressions with 1.7 million social engagements and more than 280,000 visits to the campaign website.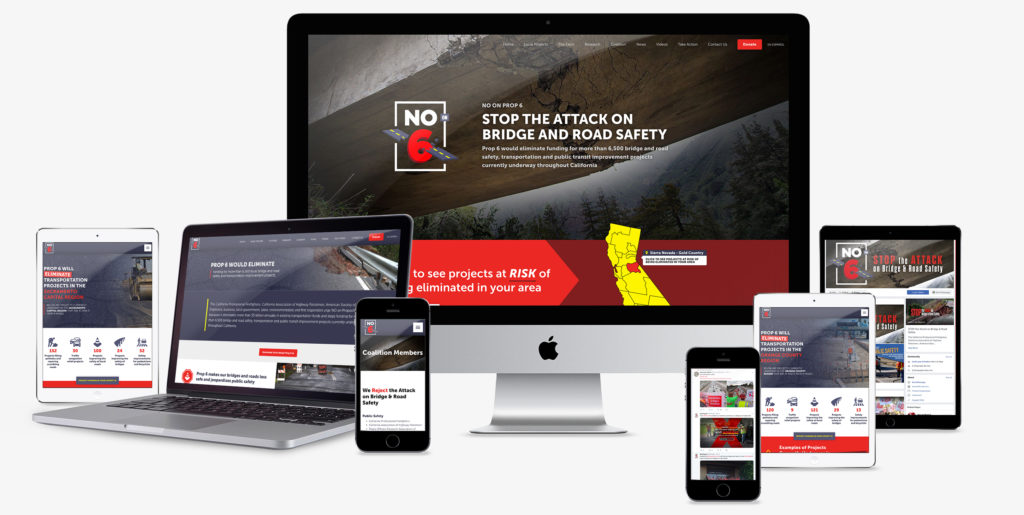 Conclusion
Prop 6 was defeated by 56.8% of California voters.