Smart Strategies.
Tireless Execution.
Our
Work
---
California Travel Association

Background
At the start of the COVID-19 pandemic, California implemented a series of stay-at-home orders that forced many industries to halt or drastically reduce operations, including California's bustling tourism and hospitality sector.
While many businesses and industries looked to the Governor's "Blueprint for Safer Economy" for guidelines and reopening timelines, the Blueprint made no reference at all to large events and conventions. The omission left interested parties with the impression that California was closed to business until otherwise notified. As a result, industries that relied on this business were losing bookings to other states for events that are scheduled years in advance, costing the state and local economies tens of billions of future lost revenue.
The California Travel Association (CalTravel) hired BCFS for strategic communication and public advocacy support to get guidance and clarity from the Administration on reopening California to tourism and conventions.
tactics & strategy
BCFS understood the legitimate health and safety concerns driving Administration policy decisions. As such, it was essential to differentiate our policy ask from others. We were not asking for the immediate opening of this business sector but instead for prompt clarity. We needed to send the signal California would be opening when safety allowed.
We developed the campaign tagline: Reopening Tomorrow Requires Action Today, coupled with #NeedGuidelinesNow. Central to the campaign was hammering how lack of guidelines and clarity in the Blueprint was putting California at a severe competitive disadvantage with other states for events that were being scheduled years into the future. And reinforcing that every month the Governor failed to take action, the state was losing $4.1 billion in economic activity. To elevate the urgent need for guidelines, BCFS used a suite of tactics, including earned media, grassroots outreach, digital advertising and social media.

Earned Media
BCFS worked with more than 40 tourism and convention center leaders across the state to develop a regionalized earned media strategy. The goal was to wage a statewide campaign but localize the effects to reinforce the negative impacts. BCFS drafted key messaging, backgrounded reporters, coordinated press interviews, and prepped spokespersons. After launching, BCFS prepared and distributed a series of follow-up press releases and op-eds, ratcheting the pressure and highlighting canceled events, lost jobs and the mounting economic losses due to a lack of guidelines.
The launch of Reopening Tomorrow Requires Action Today was covered by more than four dozen print, online, TV, radio and trade publications. In just over one month, BCFS' earned media efforts helped secure the campaign's message in more than 85 unique pieces, including:
44 print and online stories in 7 major media markets
42 TV and radio segments in 7 major media markets

On-air and on-camera interviews included CalTravel's CEO and 12 different tourism officials representing major hotspots for conventions and other large events.
Digital
BCFS created and managed a campaign-specific website that served as a home base for all press releases, relevant news, fact sheets and other resources. BCFS also conceptualized and oversaw the development of digital advertising. Using precise targeting, Administration officials and political insiders saw campaign messaging on Twitter, Facebook and targeted insider publications. BCFS also developed a social media toolkit for CalTravel members to elevate #NeedGuidelinesNow. The toolkit included sample posts, links to coverage, daily content and a suite of downloadable graphics.
The campaign's paid advertising efforts garnered over 10,500 impressions on Twitter, Facebook and Capitol Morning Report.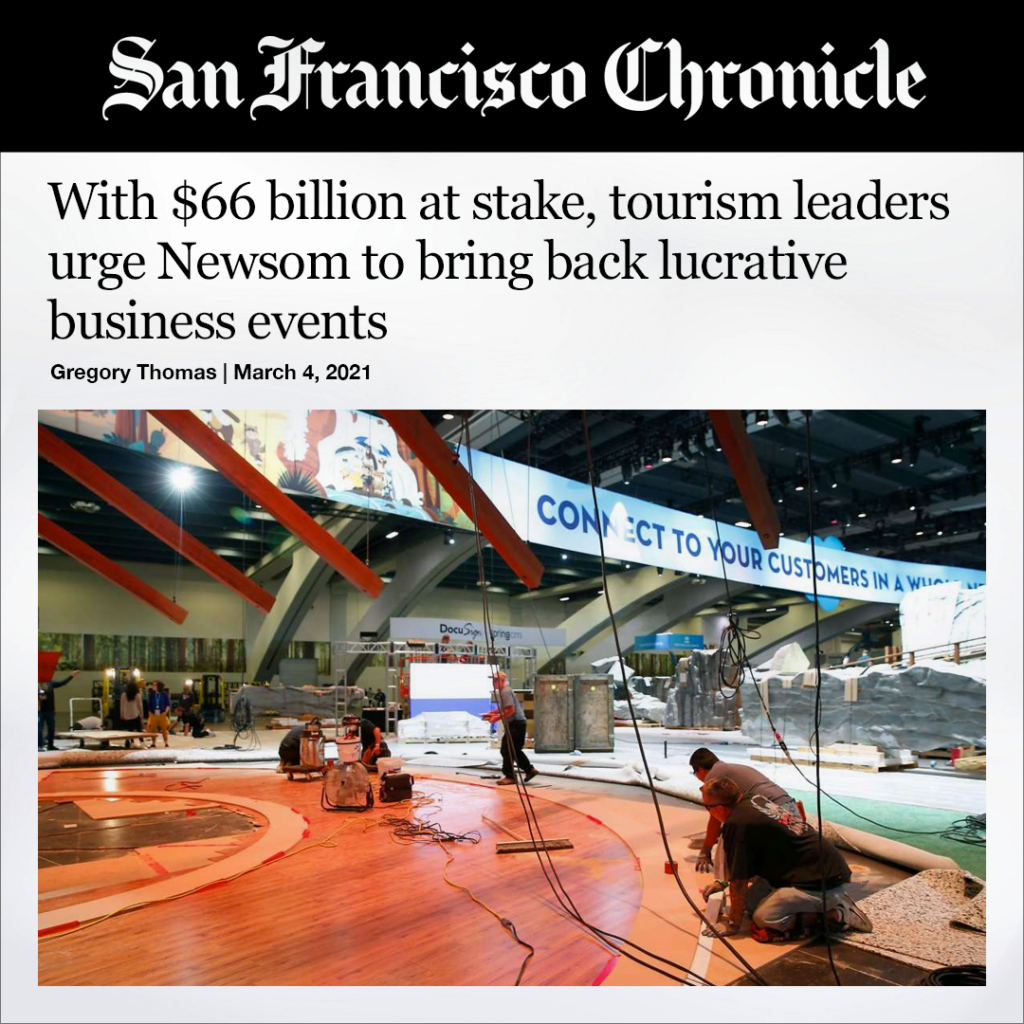 Community & Legislative Outreach
Community engagement at the state and local level was also critical to demonstrate to the Governor that guidelines were urgently needed. BCFS drafted a letter that garnered 134 signatures from prominent tourism experts and labor officials. BCFS also drafted a legislative letter that 23 California State Legislators signed. Both letters were submitted to Governor Newsom.
outcome
On April 6, 2021, Governor Newsom announced guidelines for the state's large event, meetings and convention sector.